What is BSide All About?
For more information about rates and printing schedule please view our Media KitCreated by veteran Adelaide music guru Rob Dunstan, BSide Magazine is a biweekly magazine totally focussed on what's happening in the vibrant, South Australian Music Community.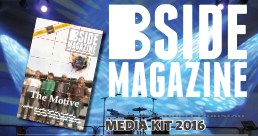 Every fortnight we deliver the latest news, up-to-date information and entertainment through:
Regular music news updates
Features and interviews
Touring and gig guides
Local music industry news
Awesome competitions
Live music and CD reviews
Theatre news and interviews
Plus, we welcome the return of BOB'S BITS in print.
Our goal with BSide Magazine is to help bolster the South Australian Music Community and to refocus the emphasis on local music. Through our publication we are encouraging and further enhancing a prosperous live music industry in South Australia.
Our aim is for BSide Magazine to become the Gaffa Tape; the ubiquitous adhesive holding everything together.
BSide's Advertising Ethos
We pride ourselves on partnering with like-minded brands and curating a meaningful environment for readers.
Our commitment to a lower-than-average advertising to editorial ratio and carefully planned ad placement in each issue ensures your brand will stand out. You get all the cachet, without any of the clash.
We're a unique publication in Adelaide that captures the hearts and minds of our devoted audience.
Advertising with BSide links directly to an audience who seek inspiration and good times at festivals, concerts and other live events.
Our Readers
We print 4,000 copies of BSide Magazine each fortnight with less than 12% returns! This means that 3,520 copies are read by up to 20 people each.
We distribute to diverse range of outlets. Outlets where our readers are likely to congregate; where our readers eat, sleep, shop, study and party.
Through this wide and diverse coverage of Adelaide we engage all classes of demographics. The age group of our readers ranges from 18-65+ with 69% being 25-54.
One copy of BSide Magazine, from say a breakfast café, can have over 20 readers before it's taken home. We are constantly revising and evaluating our Distribution List to ensure maximum exposure.
Electronic Engagement
Our social media commitment is being developed constantly. We have good social engagement with regular growth. Our reach is growing daily as between issues, BSide readers can't get enough of our news. They go online to continue strengthening the relationship.
Through feedback we've found that the online environment is just as important as our physical publication. As such we are expanding our electronic connection with our readers.